Our Day 46
Immersion – 46
Certains Faits et monuments de France
(Some Facts and monuments of France)
1. Forme (Shape) : La forme de la France est hexagonale. = The shape of France is hexagonal.

2. Capitale (Capital): Paris est la capitale de la France. On l'appelle la ville des lumières. = Paris is the capital of France. It is called the city of light.

3. Le Drapeau franÇais (flag) = Trois couleurs drapeau, bleu, blanc et rouge. = Tri colour flag, blue, white and red.

4. Langue officielle (official language): FranÇais

5. Monnaie – (currency): Euro

6. Des monuments (some monuments)

i. La Tour Eiffel

ii. Le Notre Dame

iii. Le Palais du Louvre

7. Des montagnes (mountains)

i. Les Alpes

ii. Les Pyrénées

iii. Le Massif Central

iv. Les Vasges

8. Des Fleuves (some rivers)

La Loire Le Rhin Le Rhône La Seine

La Garonne

La Loire, Le Rhin, Le Rhône, La Seine and La Garonne constitute the five largest rivers in France.)

9. Sports

rugby union handball sailing cycling

Le Foot) is the most popular sport in France. Other popular sports played in France are rugby union, cycling, tennis, handball, basketball and sailing .

10. Les repas du FranÇais (The meals of French)

i. Le petit déjeuner (breakfast)

• FranÇais boivent un bol de café au lait ou de chocolat chaud. = French drink a bowl of coffee with milk or hot chocolate.

• Ils mangent un croissant ou du pain, souvent un morceau de baguette. = They often eat a peace of long bread with butter and jam.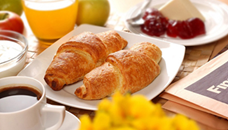 Le petit déjeuner

ii. Le déjeuner (lunch)

• La tradition veut qu'on mange un repas complet pour le déjeuner. = The tradition is to eat a full meal for lunch.

• Mais de nos jours de plus en plus de gens préfèrent manger un repas rapid et léger; une salade composée ou un sandwich. = But now a days most and more people would rather eat a fast and light meals, a mixed salad or a sandwich.

iii. Le goûter: (snack): evening tea

iv. Le dîner (dinner)

• En géneral, le soir, on mange un repas complet, en famille ou au restarant. = Usually in the evening they eat a full meal with family or restarant.

Un repas complet franÇais (A complete french meal)

• un apéritif (an appetizer): un kir

• Une entrée (a starter): une soupe

• La plat principal (main dish): du poulet ou du poisson, des fruits et le steak- frites.

• une salade verte (a green salad)

• du fromage (some cheese) – Il y a environ 450 variétes de fromages en France.

• Un dessert. (Desert) – La mousse du chocolat, Bisuits, des goûter, des tartes (some pies)

• Un café – une très petite quantité de café très concentré après le repas. – (one take a very little quantity of very concentrated coffee after the meal)